By train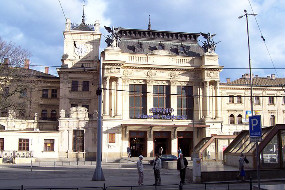 Brno has a direct connection to all surrounding capitals: Prague, Bratislava, Vienna, Berlin and Warsaw. The main Railway Station is located directly in the city center, only about a 15-minute walk from Besední dům, and 15 minutes by tram from Sono Centrum. Your famiglia can reach us comfortably and without the need to travel by car.
The main Railway station address: Nádražní 1, Brno
Use the following website to look for train connections in the Czech Republic, and also for Brno public transport schedules: www.idos.cz
       2. By bus
Excellent bus connections between Brno and the rest of Europe is provided by several bus operators. Brno is also the starting point and final destination of many national bus lines. There are two bus terminals in Brno: Zvonařka and Grand station (Benešova street). The Grand station is used mainly by bus companies, such as Student Agency, Tourbus, and Eurolines. Tickets may be bought online through idos.cz (which redirects you to the website of bus company).
Our Famiglia strongly recommends using https://jizdenky.regiojet.cz/ and https://www.flixbus.com/ to book your ticket the in highest possible standard.
Zvonařka Bus Station address: Zvonařka 411, Brno
Hotel Grand Bus Station address: Benešova třída, Hotel Grand, Brno
      3. By plane
There is an airport directly in Brno (direct connection with London, München and Eindhoven) and also airports in 1 or 2 hours distance from Brno – Vienna, Bratislava and Prague. There are regular bus lines offered by Eurolines or Regiojet between airports and Brno.
Check www.kiwi.com for searching low-cost flight connection
Brno Airport address: Letiště Brno-Tuřany 904/1, Brno